Last month, I participated in an all-day workshop that Mozilla organized as part of Web Made Movies to introduce filmmakers to the possibilities of interactive video using Popcorn.js. I lobbied to be paired with Yasmin Elayat to create a prototype for her project, 18 Days in Egypt, an interactive documentary covering the recent revolution in Egypt, using citizen-produced video. It's a credit to Yasmin's knowledge of the material and the work of the Popcorn.js team that we were able to build and demo the whole thing in a single day.
View the prototype here. It should work in any modern web browser that handles html video (even Internet Explorer 9!). Below, I'll discuss the challenges and solutions we discovered through the process of building a prototype that tells a story as well as it demonstrates the technology.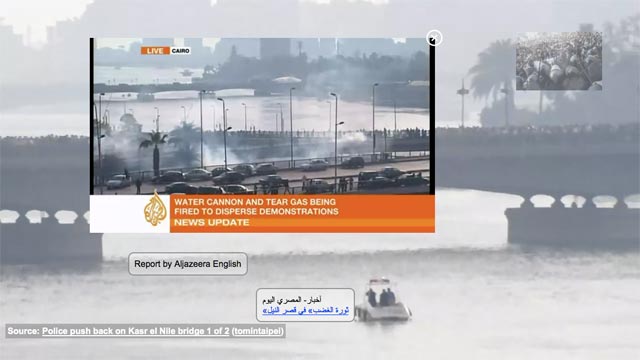 The goal of the prototype was to give an overall sense of the subject while giving a viewer the opportunity to "drill down" to additional media for more detail. As powerful as HTML video and Popcorn are, it's easy to overwhelm the viewer with too much information. So we had to choose the content and design the layout and interaction to tell the story while making it beautiful and avoiding distraction.
Read on →